Molecular pathogenesis and targeted therapeutics in Ewing sarcoma/primitive neuroectodermal tumours
Clinical Sarcoma Research
2012
2:6
Received: 17 November 2011
Accepted: 1 February 2012
Published: 1 February 2012
Abstract
Background
Ewing sarcoma/PNET is managed with treatment paradigms involving combinations of chemotherapy, surgery, and sometimes radiation. Although the 5-year survival rate of non-metastatic disease approaches 70%, those cases that are metastatic and those that recur have 5-year survival rates of less than 20%. Molecularly targeted treatments offer the potential to further improve treatment outcomes.
Methods
A PUBMED search was performed from 1997 to 2011. Published literature that included the topic of the Ewing sarcoma/PNET was also referenced.
Results
Insulin-like growth factor-1 receptor (IGF-1R) antagonists have demonstrated modest single agent efficacy in phase I/II clinical trials in Ewing sarcoma/PNET, but have a strong preclinical rationale. Based on in vitro and animal data, treatment using antisense RNA and cDNA oligonucleotides directed at silencing the EWS-FLI chimera that occurs in most Ewing sarcoma/PNET may have potential therapeutic importance. However drug delivery and degradation problems may limit this therapeutic approach. Protein-protein interactions can be targeted by inhibition of RNA helicase A, which binds to EWS/FLI as part of the transcriptional complex. Tumour necrosis factor related apoptosis inducing ligand induction using interferon has been used in preclinical models. Interferons may be incorporated into future chemotherapeutic treatment paradigms. Histone deacetylase inhibitors can restore TGF-β receptor II allowing TFF-β signalling, which appears to inhibit growth of Ewing sarcoma/PNET cell lines in vitro. Immunotherapy using allogeneic natural killer cells has activity in Ewing sarcoma/PNET cell lines and xenograft models. Finally, cyclin dependent kinase inhibitors such as flavopiridol may be clinically efficacious in relapsed Ewing sarcoma/PNET.
Conclusion
Preclinical evidence exists that targeted therapeutics may be efficacious in the ESFT. IGF-1R antagonists have demonstrated efficacy in phase I/II clinical trials, although predicting responses remains a challenge. The future treatment of Ewing sarcoma/PNET is likely to be improved by these scientific advances.
Keywords
VorinostatEwing SarcomaRelapse Free SurvivalDesmoplastic Small Round Cell TumourEwing Sarcoma Cell
Introduction
Ewing sarcoma/PNET is a high grade malignancy in which approximately 75% of cases are localised at diagnosis, and 25% are initially metastatic [1–3]. The Surveillance Epidemiology and End Results (SEER) program reported an annual incidence rate of 2.93 cases/1,000,000 in the interval from 1973 to 2004 [3]. This low incidence has impaired the ability of clinicians to conduct prospective randomised controlled trials as frequently as is desirable. The general treatment paradigm for ESFT is chemotherapy with intercalated loco regional management with surgery with or without radiation treatment for patients with localized disease. The current overall disease free survival rate for metastatic disease is 25% and residual or recurrent Ewing sarcoma/PNET has a 10% overall survival rate. The Childhood Cancer Survivor Study issued a report in 2009 on late recurrence in paediatric cancers on a retrospective cohort of 12,795 survivors that had not recurred in the first 5 years post diagnosis. The greatest risk factor for late recurrence on multivariate analysis was a diagnosis of Ewing sarcoma/PNET or CNS tumour (astrocytoma), with adjusted rate ratios of 1.7 and 4.5 respectively. In the case of Ewing sarcoma/PNET, the cumulative incidence of late recurrence at 10 years was 9.4%, rising to 13% at 20 years [4]. For long-term survivors of childhood Ewing sarcoma/PNET (defined as patients that survived ≥ 5 years from diagnosis), the overall cumulative mortality of Ewing Sarcoma/PNET survivors was 25% when followed 25 years post diagnosis. Disease recurrence/progression accounted for 60.3% of deaths. Subsequent malignant neoplasms occur in 9% of survivors, and the risk of second cancers (particularly thyroid cancer, sarcoma and breast cancers) was increased by exposure to radiotherapy. There was also an increased risk of chronic health conditions (70.7% of survivors versus 33.7% of siblings) and infertility (the relative rate of pregnancy in survivors versus siblings was 0.65) [5]. There is an urgent need to improve cure rates for localized, metastatic and recurrent disease, while concurrently decreasing treatment related morbidity. Emergent targeted therapeutics offer many exciting possibilities in this disease and this publication concerns new molecular treatments for Ewing sarcoma/PNET tumours and evolving treatment paradigms that include targeted therapeutics. The field of improving treatment outcomes for patients with Ewing sarcoma/PNET by molecular therapeutics is hindered by the low frequency of Ewing sarcoma/PNET, the age demographics and technical obstacles such as therapeutics based on siRNA and cDNA oligonucleotides having drug delivery and degradation problems. Many of these problems potentially can be surmounted by increased collaboration between preclinical researchers and physicians caring for patients with Ewing sarcoma/PNET tumours.
Ewing sarcoma/PNET tumours: an overview
Ewing sarcoma, peripheral primitive neuroectodermal tumours and Askin tumour of the chest wall belong to the Ewing sarcoma/PNET category of tumours. Although Ewing sarcoma/PNET tumours frequently are of osseous origin, 10% of cases of Ewing sarcoma/PNET tumours arise in extra skeletal soft tissues. It may arise from bone generating mesoderm however it does express neuroectodermal proteins. An emergent consensus favours it to be mesodermally derived [6]. Studies have found that inhibition of EWS-FLI expression in patient derived Ewing sarcoma/PNET cells lines causes these cells to adopt a mesenchymal stem cell phenotype [7, 8]. There is a need for improving diagnostic tests to identify Ewing sarcoma. Many of the clinical, morphological and immunophenotypic characteristics of Ewing/PNET tumours are shared by other diseases such as small cell osteosarcoma and mesenchymal chondrosarcoma. Finding EWSR1 translocation can be very useful for deciding upon therapeutic management but an expansion in molecular disease identifiers is required particularly when one considers the combinatorial diversity among chromosomal breakpoints in Ewing sarcoma/PNET tumours.
Ewing sarcoma/PNET affects children's, adolescents and young adults with most cases occurring in the second and third decades of life. The median age at diagnosis ranges from 13 to 19 years in studies not restricted to paediatric recruitment. Interestingly adolescents and young adults (AYA) fare more poorly than children diagnosed with this disease, and is a subject for research. A 2003 study of standardized chemotherapeutic regimens in Ewing sarcoma/PNET had a 5 year survival rate for children less than 10 years of age of 70% compared with 60% for 10 to 17 year olds and 44% for 18 years and older. The reasons for poorer survival in the AYA demographic are complex including biologic heterogeneity, physician experience in differing treatment centres and stagnant improvements in the overall AYA cancer survival statistics. It also is the case that adults tend to present with a higher frequency of metastatic disease and primary sites in a central or pelvic location all of which are associated with a more unfavourable prognosis.
The past decade has seen significant improvements in outcomes for patients with Ewing sarcoma/PNET [9]. The European Intergroup Cooperative Ewing's sarcoma study group evaluated prognostic factors in Ewing's tumour/PNET of bone in 975 patients with a median follow-up of 6.6 years. Metastasis at diagnosis conferred a 5 year relapse free survival (RFS) of 22% versus 55% for patients without initial metastasis (P < .0001). In the group with metastasis at diagnosis, multivariate analysis showed that site (axial or other) and age cohort (≥ 15 years versus < 15 years) had a significant effect on relapse free survival [10]. Other established prognostic factors outlined in the Clinical Recommendations devised by the European Society of Medical Oncology are tumour volume, serum lactate dehydrogenase, axial location and age greater than 15 years [11].
Members of the Ewing sarcoma/PNET family of tumours are characterized by rearrangements involving the
EWS
gene on chromosome 22q12 and fusion partners from the
ETS
oncogene family, most frequently
FLI1
on chromosome 11q24 (85%) as demonstrated in Figure
1
, or
ERG
on chromosome 21q22 (10%). The EWS gene also has 3 other ETS family gene partners leading to the chimeric gene transcripts. The five most common gene rearrangements are detailed in table
1
however other rarer fusions have been described. Ninety-five percent of ESFT have fusion of the central exons of the EWSR1 gene (Ewing Sarcoma Breakpoint Region 1) to the central exons of an ETS gene family member and fusion occurs between the NH
2
end of the EWS gene and the -COOH end of the ETS gene family partner. In Ewing sarcoma/PNET tumours it was previously considered that one particular rearrangement was specific for the malignancy and that no molecular shift occurs during progression. However a case has been described of a patient, in whom two separate Ewing sarcoma/PNET tumours arose after a 56 month remission interval, initially involving a EWS/ERG fusion transcript followed by a EWS/FLI1 fusion [
12
]. As Ewing sarcoma/PNET tumours have variable breakpoint locations in the involved genes, there is heterogeneity in fusion RNA and protein architecture. The effect of EWS-ETS fusion type on disease progression in Ewing sarcoma/PNET tumours was evaluated prospectively from the co-operative Euro-E.W.I.N.G. 99 trial [
13
]. Variants in the genomic breakpoint location lead to the transcription of varying RNA's. In most cases rearrangements occur with EWS intron 7 or 8: FLI1 introns 5 or 4 leading to either fusion of EWS intron 7 to Fli1 exon 6 (type I fusion [EF1]) documented in 51% of cases or exon 5 (type 2 fusion [EF2]) recorded in 27% of cases.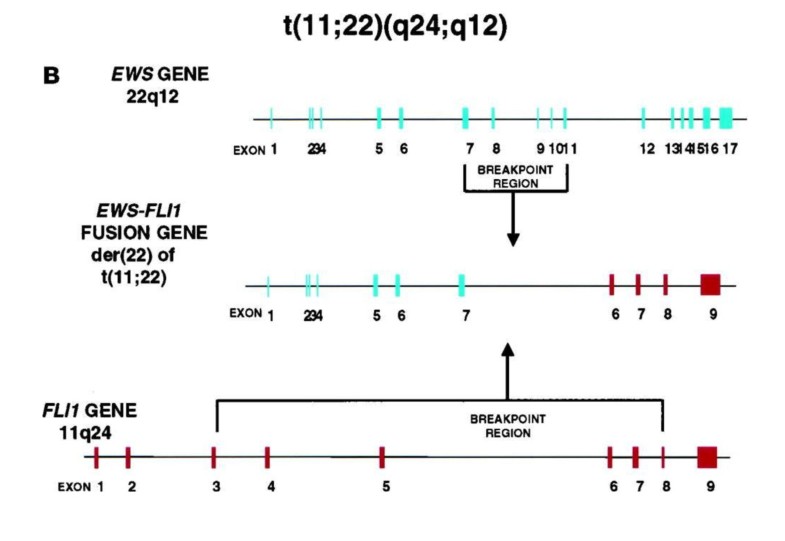 Table 1
Common Ewing sarcoma/PNET family of tumours chimeric fusion gene translocations: Most frequently implicated chimeric fusion gene translocations.
| Genes | Translocation |
| --- | --- |
| EWS FLI1 | t(11;22)(q24;q12) |
| EWS ERG | t(21;22)(q22;q12) |
| EWS ETV1 | t(7;22)(p22;q12) |
| EWS E1AF | t(17;22)(q12;q12) |
| EWS FEV | t(2;22)(q33;q12) * |
This prospective study found no correlation with fusion type and prognosis. This refuted two previous smaller retrospective studies that suggested a correlation between fusion type and Ewing sarcoma/PNET prognosis [14, 15]. Overall, current evidence does not support the use of translocation type for prognostication in Ewing sarcoma/PNET. This finding is also substantiated by a Children's Oncology Group prospective study published in 2010 [16]. In that study the association of type 1 EWS-FLI1 (fusion between exons 7 of EWS and 6 of FLI1) and non type 1 transcript translocations were correlated with disease characteristics, event free survival and overall survival. It was found that 89% of identified transcripts were EWS-FLI1 and of that cohort 58.8% were type 1. The event free survival at 5 years and overall survival did not show a clinical disadvantage to non-type 1 EWS-FLI1 fusions as had previously been suggested by retrospective studies. The analysis was restricted to patients with localised tumours that were diagnosed subsequent to 1994 and treated with COG protocols. It was postulated that advances in treatment in particular the routine inclusion of IE into Ewing sarcoma/PNET protocols eliminated the prognostic disadvantage of non-type 1 fusions.
Chemotherapy in Ewing sarcoma/PNET
Initial treatment
An overview of current cytotoxic management options in Ewing sarcoma/PNET is important as most emergent molecularly targeted therapeutics probably will be incorporated into existing treatment paradigms. The Children's Cancer Group and the Paediatric Oncology Group initiated a trial (National Cancer Institute, protocol INT-0091) on patients 30 years old or younger with Ewing sarcoma, primitive neuroectodermal tumour of bone, or primitive sarcoma of bone [17]. The study included patients with both localised and metastatic disease and the findings were published in 2003. Patients were randomly assigned to receive standard chemotherapy with doxorubicin, vincristine, cyclophosphamide, and dactinomycin or experimental therapy with these four drugs alternating with treatment with ifosfamide and etoposide. In patients without metastatic disease the 5 year EFS rate in the experimental arm was 69% versus 54% in the standard treatment cohort. Furthermore the overall 5 year survival rate for the experimental treatment was 72% versus 61% for the standard regimen with a relative risk of death of 1.6 for the standard treatment. The European Intergroup Cooperative Ewing Sarcoma Study-92 (EICESS-92) published in 2008, investigated whether cyclophosphamide has a similar efficacy to ifosfamide in standard risk patients and whether the addition of etoposide improves survival in high risk patients [18]. Cyclophosphamide appears to have a similar effect on event free survival and overall survival as ifosfamide, but also increased toxicity. The 3 year EFS difference observed was 6.8%, and there was an EFS hazard ratio of 0.80 for localised disease and 0.96 for metastatic disease favouring the etoposide containing regimen. This was consistent with the finding of the National Cancer Institute/Intergroup Ewing Tumour Group trial INT-0091. These studies therefore suggest that the addition of ifosfamide and etoposide to a standard regimen does not affect the outcome for patients with metastatic disease.
Dose intensification has been studied. A Children's Oncology Group study that was published in abstract form compared vincristine, doxorubicin and cyclophosphamide alternating with ifosfamide and etoposide treatment every 2 weeks with that of treatment every 3 weeks. The interval compression group had an improved event free survival at 3 years (76% vs. 65% 3, P = 0.028 [19]. The Children's Oncology Group also in 2009 reported a study National Cancer Institute protocol INT-0154 (Children's Cancer Group 7942/Pediatric Oncology Group 9354) which opened to institution between dates in 1995 and 1998. In this study the dose intensification of alkylating agents did not improve EFS and overall survival for patients with Ewing sarcoma/PNET [20]. Whether dose intensification may benefit a subgroup at particularly high risk remains an area of active research. Outcomes are significantly worse for patients with metastatic disease at diagnosis, prompting testing of dose-intensified regimens in this setting. The Euro-EWING 99 R3 study published in 2010 consisted of a single arm study of 281 patients with high-risk disease that received six cycles of vincristine, ifosfamide, doxorubicin, and etoposide, one cycle of vincristine, dactinomycin, and ifosfamide, local treatment (surgery and/or radiotherapy), and high-dose busulfan-melphalan followed by autologous stem-cell transplantation [19]. The estimated 3-year EFS from the start of high dose treatment/stem cell transplant was 45% for 46 children younger than 14 years. Overall this study has a 3-year EFS of 27% and an OS of 34%.
Relapsed disease
Relapsed Ewing sarcoma/PNET is generally regarded as an incurable disease. A 2005 study reported that 49% of patients achieved a partial or complete response to second-line treatment, with a median duration of response of 27 months [21]. The five-year OS for relapsed patients was 23%. Multivariate analysis found a reduced risk of death following response to second line treatment (relative risk; RR 0.14), if the relapse free interval was greater than 24 months (RR 0.29) and for those receiving high dose treatment (RR 0.26). Despite this, the role of high dose chemotherapy with autologous stem cell transplantation in relapsed disease is uncertain. A 1995 report from the EBMT solid tumour registry that evaluated the impact of megatherapy in a subgroup of children in second complete remission with high risk Ewings/PNET tumours found they had actuarial EFS of 32% at 5 years [22]. While high dose therapy may be useful in some patients as consolidation treatment for patients with Ewing sarcoma/PNET in second complete remission, most reports are non-randomised studies of patients with responsive disease [23]. The role of high dose therapy remains a subject for research.
Newer cytotoxic agents have entered clinical use. Camptothecin derivatives are effective in Ewing sarcoma. While single agent treatment with irinotecan and topotecan has shown little efficacy in phase I and II studies of patients with refractory disease, combinations that have been tested include temozolomide with irinotecan, topotecan with cyclophosphamide and high dose ifosfamide [24]. Most studies are limited by small patient numbers and the tendency to combined evaluation of patients with refractory and relapsed disease leading to study population heterogeneity. The combination of irinotecan and temozolamide was retrospectively reported on a 20 patient series with recurrent/refractory disease from Memorial Sloan Kettering, NY. There were 5 complete and 7 partial responses (63% overall response rate). Median time to progression was 8.3 months for patients with recurrent/progressive ES and for the subset with recurrent ES it was 16.2 months [25]. In another study the combination of cyclophosphamide and topotecan for patients with refractory or relapsed Ewing tumours was reported on 54 patients by German investigators. 32.6% had a partial response and 26.5% had stable disease. Of 19 relapsed patients that attained a complete response, 52.6% maintained remission. After a median follow-up of 23.1 months 25.9% of patients were in continuous complete or partial remission [26]. Lastly, high-dose ifosfamide was described in a study in which 33 patients with relapsed or advanced disease and 4 patients that had progression during neoadjuvant treatment, with a 34% overall response rate [27]. Finally, trabectedin has been evaluated in metastatic Ewing sarcoma/PNET patients progressing after standard chemotherapy yielding a 10.3% partial response rate, while 13.7% of patients experienced stable disease. The 6 month progression-free survival was 25% [28].
New treatment strategies in Ewing sarcoma/PNET tumours
The National Cancer Institute in the United States are conducting clinical trials in Ewing sarcoma as selected trial that in particular utilise targeted molecular therapeutic strategies are documented in table
2
. There is an urgent need for novel therapeutic strategies, particularly for patients with advanced disease at diagnosis, or who relapse following definitive treatment. The following sections describe a range of targeted and other approaches which are currently under investigation.
Table 2
Selected National Cancer Institute, U.S.
Study Title

Phase protocol's ID

Sponsor/lead organisations

Important points

Primary objective

Phase I/II partially randomised study of Hedgehog antagonist GDC-0449 in combination with γ- Secretase Inhibitor RO4929097 in patients with advanced or metastatic sarcoma

Phase I/II

MSKCC-10049

10-049,8406,

NCT01154452

Sponsor: NCI

Lead Organisation:

Memorial Sloan-Kettering Cancer Centre

Age: 18 and over

Advanced sarcoma (Phase Ib)

Advanced, metastatic sarcoma (Phase II)

Expected enrolment (EE)120

(i) To determine maximum tolerated dose of RO4929097 when combined with GDC-0449 in patients with advanced sarcoma (Phase Ib).

(ii) To assess progression free survival (PFS) of patients with advanced, metastatic sarcoma treated with RO4929097 with or without GDC-0449.

Phase II study of AuroraA Kinase Inhibitor MLN8237 in paediatric patients with recurrent or refractory solid tumours or leukaemia

Phase II

COG-ADVL0921

ADVL0921

NCT01154816

Sponsor: NCI

Lead Organisation: Children's Oncology Group

Age: 1-21 years

Entry criteria includes patients with histological confirmed Ewing sarcoma/peripheral primitive neuroectodermal tumour

EE 190

Assess objective response rate in paediatric patients

Phase II study of Cixutumumab in patients with relapsed or refractory solid tumours

Cixutumumab: A fully human IgG1 monoclonal antibody directed against IGF-1R *

Phase II

COG-ADVL0821

ADVL0821

NCT00831844

Sponsor: NCI

Lead Organisation: Children's Oncology Group

Age: 6 months-30 years

Entry criteria includes patients with histological confirmed Ewing sarcoma/peripheral primitive neuroectodermal tumour

EE140

(i) Assess response rate

(ii) Toxicity

Secondary outcome:

Relationship between tumour expression of IGF-I, IGF-II, and IGF-IR and response*

Phase II study of MK8669 in patients with metastatic bone or soft-tissue sarcoma (8669-030)

MK8669 is a small molecule mTOR inhibitor and rapamycin analogue. mTOR is a serine/threonine kinase located downstream of the PI3K/Akt signalling pathway

Phase II

Sponsor: Pharmaceutical/Industry

Trial sites located in Japan

Age: 13 and over

Exclusion criteria include CNS metastasis (unless successfully treated), prior treatment with rapamycin or rapamycin analogues, on-going therapeutic toxicity from anticancer treatment, intercurrent or historic disease that may potentially confound results

Evaluation of MK 8669 when administered as maintenance therapy to patients with metastatic bone or soft-tissue sarcoma in Japan

IMC-A12 in combination with temsirolimus (CCI-779) in patients with advanced cancers

Phase I

2007-0595

MDA-2007-0595

8109

NCT00678223

NCT00678769

Sponsor: NCI

Lead organisation: M.D. Anderson Cancer Centre, University of Texas

Age: 16 and over

3-6 participants each dose level of IMC-A12 in combination with temsirolimus

(i) To establish the highest tolerable dose combination of IMC-A12 and temsirolimus that can be given to patients with advanced or metastatic cancer.

(ii) Establish drug safety.

Tolerability of dose scheduling

Biomarker studies incorporated

A phase I study of NK cell infusion following allogeneic peripheral blood stem cell transplantation from related or matched unrelated donors in paediatric patients with solid tumours and leukaemia's

Phase I

110073

11-C-0073

NCT01287104

NCI

Age: 4-35 years

Paediatric solid tumours (if ESFT must have ultra-high risk ESFT)

Re: EWS;

(i) If at initial diagnosis has bone or bone marrow metastasis may be enrolled if completed standard front line therapy (SFLT) that includes vincristine, cyclophosphamide, adriamycin, ifosfamide and etoposide (ii) Patients with recurrence of tumour at any site less than 1 year after completing SFLT or with subsequent recurrence any time after completing SFLT (iii) Patients with progressive or persistent disease while receiving standard front line chemotherapy

(i) To determine the safety, effectiveness, and immune system response of giving NK white blood cells to individuals who have received allogeneic HSCT.

(ii) To identify possible treatment related side effects.

Background: Based on laboratory evidence NK cells following allogeneic PBSCT may have a beneficial anti-cancer therapeutic effect

Studies of Temozolamide in combination with topotecan in refractory and relapsed paediatric solid tumours

Phase II

CSET 2008/1378

NCT 00918320

Lead organization: Institut Gustave Roussy

Age: 6 months - 20 years.

Eligibility criteria include: Confirmed paediatric solid tumour, relapsed/refractory tumours in which SFLT has failed, not more than 2 lines of prior chemotherapy, CT/MRI measurable disease

To determine that the combination of topotecan and temozolamide is effective in the treatment of relapsed and refractory solid neuroblastoma and other paediatric solid tumours.

PCI-24781 in combination with doxorubicin to treat sarcoma

A broad-spectrum phenyl hydroxamic acid inhibitor of histone deacetylase (HDAC). Inhibits several isoforms of HDAC causing accumulation of highly acetylated histones and induction of chromatin remodelling. It also inhibits homologous recombination (HR) activity by inhibiting the expression of RAD51

Phase I, II

Lead organisation/Sponsor

Massachusetts General Hospital

Age: 18 years and over

PCI-24781 is considered to regulate genes involved in tumour growth.

To determine safety and maximum tolerated dose of PCI-24781 that can be safety given with doxorubicin (phase I) and the the safety and efficacy of PCI-24781 when combined with doxorubicin (phase II) in patients with advanced sarcomas.

Study in localised and disseminated Ewing sarcoma

Phase III

Lead organisation/sponsor:

Medizinische Klinik und Poliklinik A-Universitaetsklinikum Muenster, Germany

Age: 4-50 years

EWING 2008 is a joint protocol of European and North American Ewing sarcoma study groups. Open to all patients diagnosed with Ewing sarcomas, localised or metastatic, who are considered eligible for neoadjuvant chemotherapy.

Standard Risk R1: Randomised trial

High Risk R2: Randomized trial

Very High Risk R3: Randomized trial

Refer to NCI website for full study details
Conclusion
There are two major themes emerging from a review of molecular pathology and therapeutics in Ewing sarcoma/PNET. Firstly, risk-adapted conventional treatment may be important, particularly as a high proportion of cases of Ewing sarcoma/PNET occur in the paediatric age group where long term treatment related adverse sequelae have important survivorship implications. For example, in the Euro-EWING 99 Trial, age, tumour volume and extent of metastatic spread where found to be prognostic risk factors for patients with primary disseminated multifocal Ewing sarcoma/PNET treated with intensive multimodal therapy. Various molecular markers of prognosis have recently been identified, including BMI-1 expression as well as prognostic gene expression signatures, which may be used to guide therapy [95]. Unlike Hodgkin lymphoma, current cure rates for limited stage Ewing sarcoma/PNET with conventional therapy suggest it is unlikely that there will be an appetite for reduced dose intensity. The major opportunity will be to identify those at significantly increased risk, who might benefit from dose-intensification. Secondly, Ewing sarcoma/PNET is an area where the potential exists -- notwithstanding the different technical challenges -- for targeted therapeutics to impact upon advanced or relapsed disease [96]. There are natural challenges in development of novel therapeutic approaches in Ewing sarcoma/PNET. The low incidence rate probably presents the most significant obstacle to improving the outcome for patients diagnosed with Ewing sarcoma as it is a comparatively unattractive area economically for drug development. Nonetheless, the rapid accrual to the R1507 SARC Ewing sarcoma study showed that, with optimism and global collaboration, large numbers of patients can be accrued in short timeframes. Considering the demographics, high lethality, and defined molecular pathogenesis, targeted therapeutics of Ewing sarcoma/PNET family of tumour is an area of importance for collaborative international clinical trials.
Authors' Affiliations
(1)
Department of Medical Oncology, St. Vincent's University Hospital, Dublin, Ireland
(2)
Sarcoma Service, Department of Cancer Medicine, Peter MacCallum Cancer Centre, Melbourne, Australia
Copyright
© Kelleher and Thomas; licensee BioMed Central Ltd. 2012
This article is published under license to BioMed Central Ltd. This is an Open Access article distributed under the terms of the Creative Commons Attribution License (http://creativecommons.org/licenses/by/2.0), which permits unrestricted use, distribution, and reproduction in any medium, provided the original work is properly cited.